Technical Advantages

The AT-90DH digital soldering requires just 10 seconds to go from room temperature to 350ºC. Variable temperature, silver alloy conductive materials, automatic sleeping support.

Features

90W Digital Soldering Station with LCD Display and Fast Heat Up

HD LCD, backlight LCD, visualized process control and easy to operate.

Silver alloy as heat conducting material, heat exchange mode, and very fast temperature returning.

Temperature rises to 350

ºC

in 10 seconds after starting up.

Immediate temperature access function and quick switch of service temperature.

Auto sleep and password locking.

Separate design between soldering iron and heating core, thus saving on use-cost.

Handy handgrip and comfort to use.

Fault display warning function.

Specification


Power consumption: 90W

Input voltage: 110VAC?0% 50Hz

Output voltage: 24VAC

Temperature Range: 100-500

ºC

(212-932¨H)
Temperature-correcting Range: -50~+50

ºC

(-58~+122¨H)

Password Scope: 001-999 (000means unlocked)

Setting Mode: Keying adjustment and immediate access

Dormant temperature: 200

ºC

(temperature at the tip of soldering iron in the dormant state)

Dormant time: 1-99mins (No dormancy at the point of 0 minute)

Temperature Accuracy: ?0

ºC

Temperature Stability: ?

ºC

(Still air and no load)

Tip to ground impedance: <= 2

Tip to ground voltage: <= 2 mV

Dimension: 175(L)?15(W)?5(H)mm

Weight: 6 lb
AT-90DH

90W

110VAC?0% 50Hz

24VAC

100-500ºC(212-932¨H)

Temperature-Correcting Range

-50~+50ºC (-58~+122¨H)

001-999 (000means unlocked)

Keying adjustment and immediate access

Dormant temperature

200

ºC

(temperature at the tip of soldering iron in the dormant state)

Dormant time

1-99mins (No dormancy at the point of 0 minute)

Temperature Accuracy

?0

ºC

Temperature Stability

?

ºC

(Still air and no load)

Tip to ground impedance

<= 2

Tip to ground voltage

<= 2 mV

Dimensions

175(L)?15(W)?5(H)mm

Weight

6 lb

Test Chart



Test Condition
Test method: Install thermocouple in the place of iron tip, put welding wire of 10 mm diameter on PCB (epoxy resin copper clad), weld one point at each second, and test the temperature of iron tip.
Thermocouple: K type
Setting temperature: 350¡æ
The standard soldering iron tips: AT800-2.5D
Soldering Iron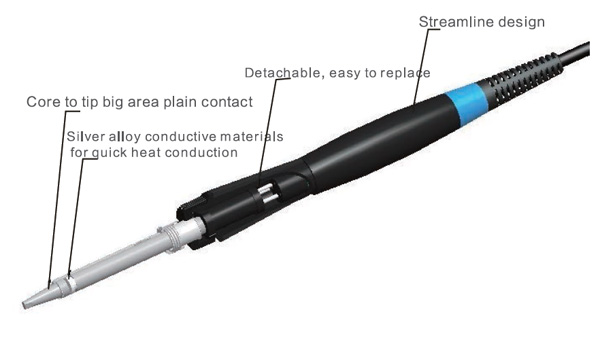 Heater's Revolution
Being one of the best selling soldering stations, AT-90DH Soldering Station utilizes the new 3nd generation of heater. See what's new below.
1. Ordinary heater:
Output AC: 24V 50Hz
2. Electro-magnetic high frequency heater:
Output AC: 28V 200KHz
3. 3nd generation heater:
Output AC: 24V 50Hz
Why choose this 3rd generation heater?
Because it absorbs the merits of above two kinds of heaters and filtering their defects.
Technically, the heating theory is as same as the first kind. But heat conduction material is replaced by silver, as a result, heat loss is controlled in a minimum extent. Meanwhile, comparing with Electro-magnetic heater, the latter has no electro-magnetic interference.
The iron tip that comes with the new heater has smaller size, resulting of a lower cost for replacement.
More Information

| | |
| --- | --- |
| upc | No |
| length | No |
| width | No |
| height | No |